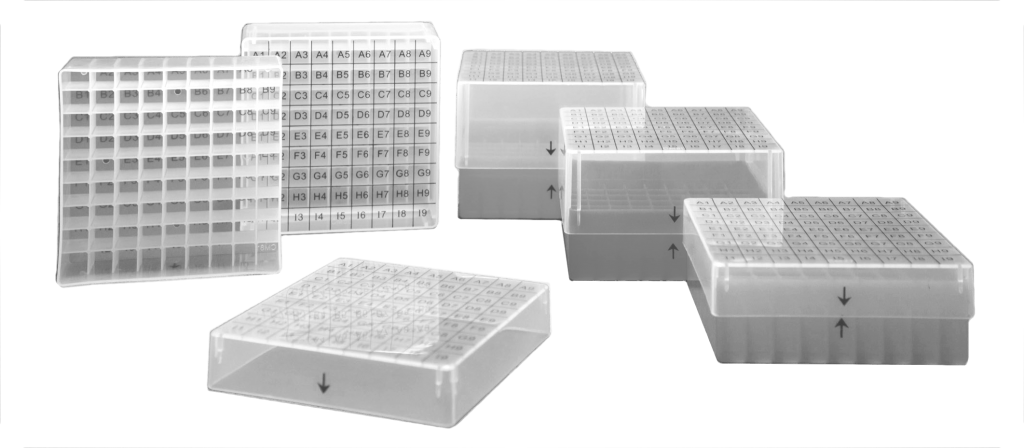 Try Our Product
---
Our local distributor will contact you to arrange free samples for testing.
ahn Plastic Cryoboxes 9x9 / 10x10
With our ahn Plastic Cryoboxes you can organize your cryo tubes in freezers or liquid nitrogen. They are made from premium quality polypropylene and easy to autoclave.
Sizes and Footprints
Our Plastic Cryoboxes are available in two sizes 9×9 and 10×10 grid. Both have the size 130×130 mm and can be stacked easily. They even fit the regular freezers. The streamlined design complements our ahn myTube CrT Cryo Tubes and retains compatibility with other brands.
9x9 Cryoboxes
The 9×9 Cryoboxes accommodate up to 81 samples. And are suited for budget-constrained laboratory settings.
10x10 Cryoboxes
These Boxes provide 23% more storage without increasing the box footprint. They are especially suited to space-limited settings or laboratories requiring cutting-edge features for optimizing your workflow.
Ordering Information
| Description | Dimensions | Material | Colour | Sales Unit | Cat.No. |
| --- | --- | --- | --- | --- | --- |
| Cryobox, 9x9 grid for 1.0mL – 2.0mL cryo tubes | 130x130x50mm | Plastic | clear | case/36 pcs. | 3-632-45-0 |
| Cryobox, 9x9 grid for 4.0mL cryo tubes | 130x130x80mm | Plastic | clear | case/36 pcs. | 3-633-36-0 |
| Cryobox, 9x9 grid for 5.0mL cryo tubes | 130x130x90mm | Plastic | clear | case/36 pcs. | 3-634-36-0 |
| Cryobox 10x10 grid for 0.5mL cryo tubes | 130x130x32mm | Plastic | clear | case/36 pcs. | 3-635-45-0 |
| Cryobox 10x10 grid for 1.0mL cryo tubes | 130x130x40mm | Plastic | clear | case/36 pcs. | 3-636-45-0 |
| Cryobox 10x10 grid for 2.0 mL cryo tubes | 130x130x50mm | Plastic | clear | case/36 pcs. | 3-637-45-0 |
| Cryobox 10x10 grid for 4.0mL cryo tubes | 130x130x80mm | Plastic | clear | case/36 pcs. | 3-638-45-0 |
| Cryobox 10x10 grid for 5.0mL cryo tubes | 130x130x90mm | Plastic | clear | case/36 pcs. | 3-639-45-0 |