myLab® SM-05/10/15 Heated Multiplate Stirrers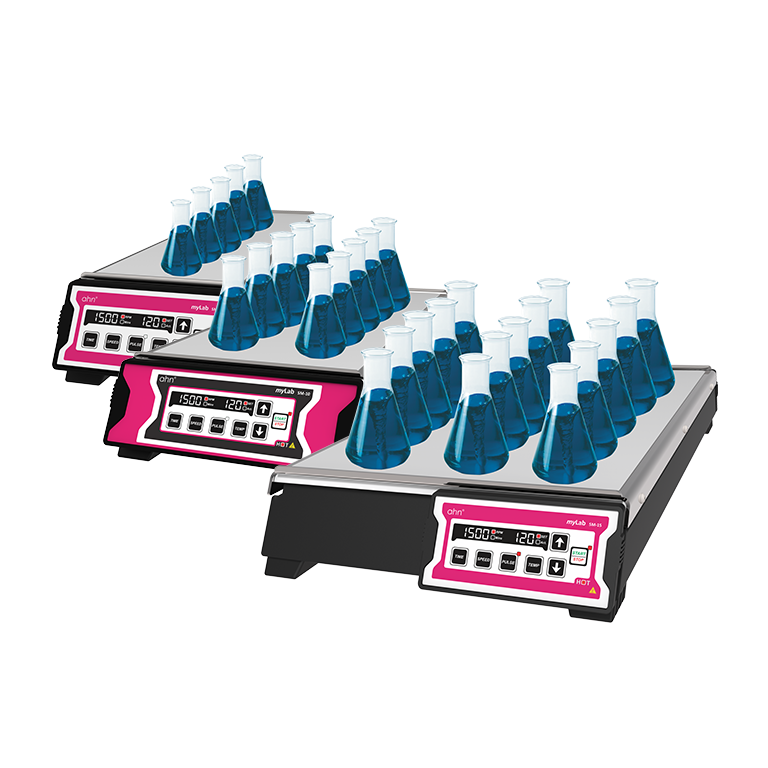 Try Our Product
---
Our local distributor will contact you to arrange free samples for testing.
myLab® SM-05/10/15 Heated Multiplate Stirrers
Usage – chemical and pharma industry for mixing and/or heating liquids. Maximum Speed – adjustable speed ranging from 300 to 1500 rpm with an interval of 10 rpm. Multiple capacity options – 5, 10 or 15 flasks. Optimal heating process – heating up to 120 °C with homogenous temperature distribution across the plate. Improved mixing – programmable pulse mode where the user can set the time from 30 to 99 seconds for changing the mixing direction. Time setting – ranging from 1- 999 minutes / continuous operation feature. Operation-friendly design – rubber feet for optimal stability on the bench / waterproof surface which is easy to clean and protects the equipment from accidental spills.
Ordering Information
| Description | Cat. No. |
| --- | --- |
| AHN myLab® SM-05 5-plate Heated Magnetic Stirrer 1500 rpm | 7-305-00-0 |
| AHN myLab® SM-10 10-plate Heated Magnetic Stirrer 1500 rpm | 7-310-00-0 |
| AHN myLab® SM-15 15-plate Heated Magnetic Stirrer 1500 rpm | 7-315-00-0 |
Delivery package
1 pc.
Heated Magnetic
Stirrer 1500 rpm
1 pc.
Power cord
1 pc.
Reference stirrer bar
1 pc.
Instruction manual
1 pc.
Warranty card
Specifications
Number of stirring
Positions
5
10
15
Max. stirring quantity
400 mL per position
Recommended
stir bar length
25 mm
Protection class
IP 42
Dimensions (WxDxH)
136 x 562 x
75 mm
196 x 565 x 75 mm
282 x 568 x 76 mm
Weight
3.0 kg
5.0 kg
7.0 kg
Product Literature (Download)