myTube® CT Centrifuge Tubes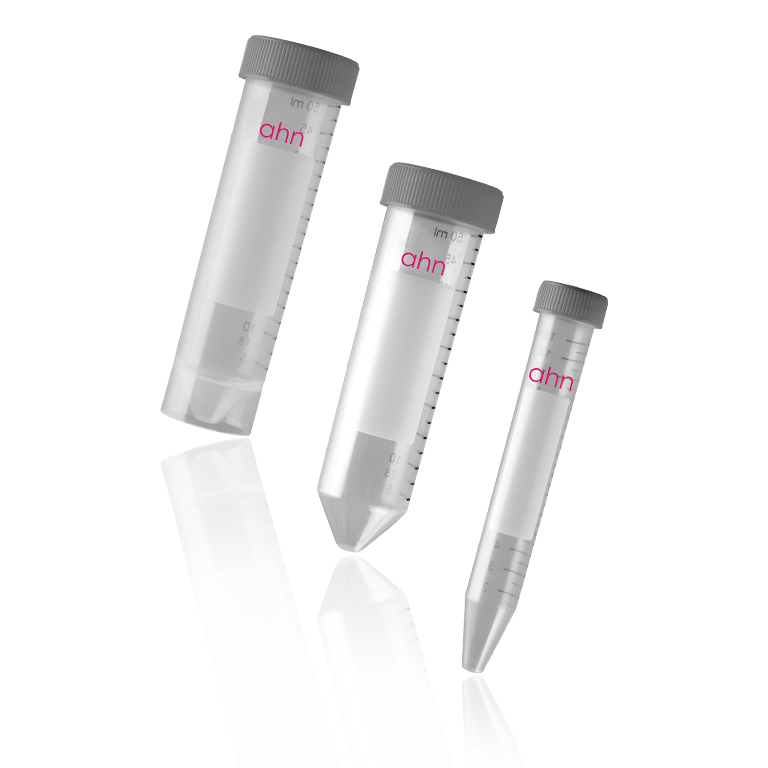 Try Our Product
---
Our local distributor will contact you to arrange free samples for testing.
myTube® CT Centrifuge Tubes
Elimination of contamination of sample – high quality raw material meets standards of purity. Centrifuge Tube with screw flat cap. Easy sample identification – large writing area on tube. Quick and simple volume check – precise graduation marks. No loss of sample – tube resists high centrifugal force and temperature variations (-80 °C to +121 °C).
Centrifuge specifications:
up to 17.000 x g – 15 mL centrifuge tube
up to 20.000 x g – 50 mL centrifuge tube
up to 7.000 x g – 50 mL centrifuge tube (self-standing)
Comfortable handling – the 3/4 turn closure enabling one handed operation by opening and tightening. Maintain sample integrity – sterile version available (by gamma irradiation). Sterile handling – centrifuge tubes are autoclavable (opened 121 °C / 15 min). Versions – 50 mL tubes are available as non-skirted or self-standing (skirted).
Specification
Volume
Height
Colour
Sterilized
Pack Type
Sales Unit
Cat. No.
15 mL
120.0 mm
clear/gray
bag
20x25
3-254-25-8
120.0 mm
clear/gray
rack
20x25
3-255-25-8
120.0 mm
clear/gray
✔️
bag
20x25
3-256-25-8
120.0 mm
clear/gray
✔️
rack
20x25
3-257-25-8
50 mL
115.0 mm
clear/gray
bag
20x25
3-270-25-8
115.0 mm
clear/gray
rack
20x25
3-271-25-8
115.0 mm
clear/gray
✔️
bag
20x25
3-272-25-8
115.0 mm
clear/gray
✔️
rack
20x25
3-273-25-8
50 mL, self-standing
115.0 mm
clear/gray
bag
20x25
3-280-25-8
115.0 mm
clear/gray
✔️
bag
20x25
3-281-25-8
Product Literature (Download)