Essential lab instruments for your RNA extraction from AHN
As the COVID-19 pandemic is rapidly spreading across the globe, we at AHN Biotechnologie GmbH are doing our best to supply essential lab instruments and supplies to assist in the RT-PCR testing of patient samples. We realise that testing has been a major bottleneck in combating the disease as there is limited capacity in many areas around the world. In this blog post, we will summarise some of AHN's essential lab instruments that can be used by diagnostic laboratories to speed up the testing of SARS-CoV-2 in patient samples.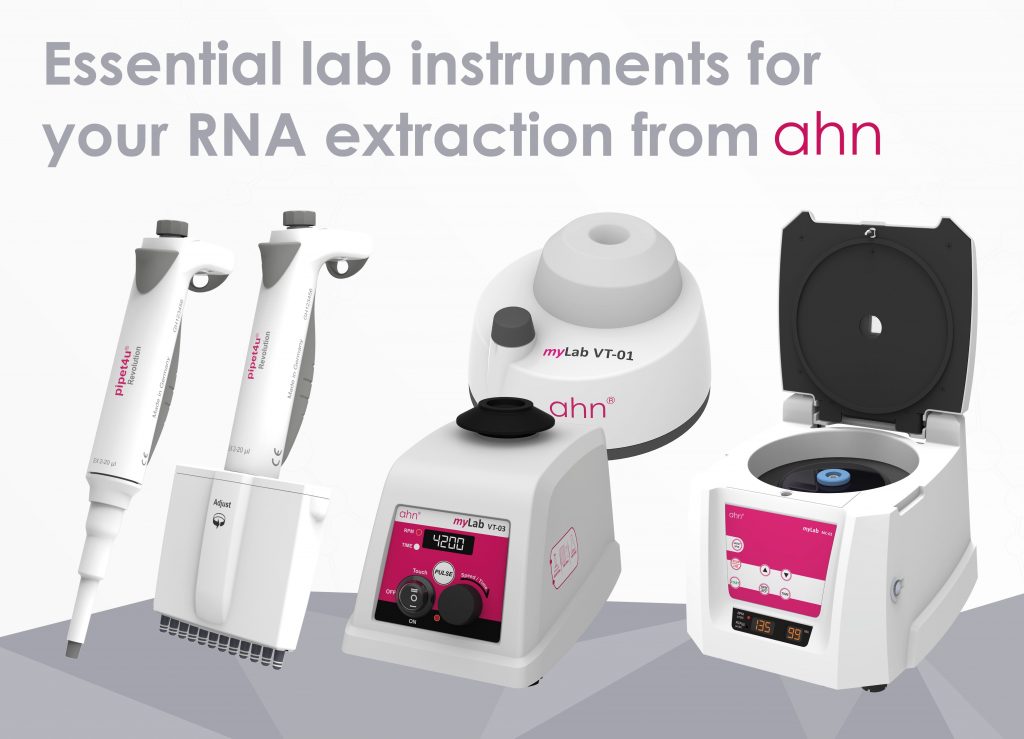 Electronic pipettes
Pipettes, though humble and unassuming, are key to the success of Real-time RT-PCR for diagnosing COVID-19. Having a good pipette minimises liquid transfer errors during extraction while ensuring accurate and consistent volume dispensing across multiple sample runs. AHN Biotechnologie GmbH has cost effective, intuitive, and fast electronic pipettes that will help laboratory scientists increase their efficiency while minimising the risk of error.
AHN pipet4u® Revolution Single Channel Electronic Pipette
The AHN pipet4u® Revolution Single Channel Electronic Pipette is a user-friendly, reliable, and very affordable pipette that would serve well in demanding situations such as those in COVID-19 testing labs. The combination of a compact, ergonomic design with an extremely intuitive interface, exudes the familiarity of a manual pipette, with the wide gamut of automated pipetting options.
Undoubtedly, the most striking feature of this pipette is an ultra-bright OLED panel which is designed for pleasurable reading, thus reducing eye strain when pipetting for long hours. This, along with the ergonomic design and a patented one-dial system, minimise the risk of developing repetitive strain injury by ensuring all controls are in the right place for comfortable adjustment. The AHN pipet4u® Revolution Single Channel Electronic Pipette also features an easy self-calibration management system (ESM) for working with fluids of varying viscosity.
AHN pipet4u® Revolution Electronic Multichannel Pipette
A step up from the single channel version, the AHN pipet4u® Revolution Electronic Multichannel Pipette offers increased sample throughput while remaining very affordable. The AHN pipet4u® Revolution Electronic Multichannel Pipette is supplied in 8 channel and 12 channel variants that are precision engineered to ensure consistent sample volumes across all channels. This limits the error margin when processing multiple patient sample in a single run, while ensuring faster delivery of test results.
Microcentrifuges
Effective microcentrifuges are necessary in any hood as they allow for efficient removal of particulate debris in sample preparation, as well as flow-through and wash buffer in the sample purification step. AHN supplies a quiet and space-efficient microcentrifuge that complies with the centrifugation requirement for COVID-19 testing protocols that mandate rotations of 10,000-16,000 x g for 30 seconds.
AHN myLab® Centrifuge 15000 rpm
The AHN myLab® Centrifuge 15000 rpm has a small footprint and a robust construction which make it a smart choice for diagnostic labs. This centrifuge is supplied with a standard 12-place rotor that accommodates 1.5 mL and 2 mL microtubes as well as adaptors for the smaller 0.2 mL and 0.5 mL tubes. An optional PCR rotor is available for use with PCR strips. The unique closed rotor design of tah AHN myLab® Centrifuge 15000 rpm keeps noise levels below 60 dB.
Powered by a brushless DC motor, this microcentrifuge can accelerate samples tubes up to 15596 x g for extended periods. The brushless motor design and improved airflow minimise heat build-up during operation to protect samples from overheating. The AHN myLab® Centrifuge 15000 rpm is equipped with an imbalance detection feature that will automatically notify the operator before commencing a spin cycle. This centrifuge also features an electronic brake that prevents the lid from opening and exposing the operator to viral infection in case of accidental pressing of the open button during a spin cycle.
Vortex Mixers
Most diagnostic protocols employed in the testing of SARS-CoV-2 patient samples involve one or more mixing steps that require thorough mixing. A good example of this would be when reconstituting primers from a lyophilised powder form with nuclease-free water. Using a good vortex mixer not only increases mixing efficiency, it also increases sample throughput.
AHN Biotechnologie GmbH has two products (i.e. the AHN myLab® Mini Vortex 4500 rpm and the AHN myLab® Vortex Shaker 4200 rpm) that ensure thorough mixing, while fitting comfortably in any hood. This ensures the safety of diagnostic workers as they do their important work in testing patient samples for the presence of the COVID-19 pathogen.
AHN myLab® Mini Vortex 4500 rpm
The cost effective AHN myLab® Mini Vortex, with its small footprint and featherweight (0.55 kg) allows for efficient mixing of samples and master mixes in any hood without taking up extra real estate. The mixer is stabilised by powerful suction cups that keep its robust, die cast frame steady as the mixer achieves speeds of up to 4500 rpm.
Once plugged in, the operator simply presses the sample vial down on the soft rubber cup and the AHN myLab® Mini Vortex will automatically kick into action. The device has an orbital motion of 4.5 mm which is enough for quick and thorough mixing of reagents for RT-PCR. Rotational speed can be increased by rotating the speed knob clockwise or lowered by rotating the same counter-clockwise.
Fitted with a low voltage power supply, the AHN myLab® Mini Vortex will not overload the power supply of the hood. It also operates quietly, with noise levels well below 50db even at maximum speed. This helps to minimise distractions and annoyances to allow diagnostic workers to stay mentally alert and safe while testing for SARS-CoV-2.
The AHN myLab® Mini Vortex has a broad temperature range (5°C to 40°C) that allows it to work in a variety of environments and it also has a humidity tolerance of up to 80%. This makes it well suited for labs in most countries of the world, from the chilly north to the humid tropics. This allows all diagnostic laboratories to achieve comparable results no matter where they are geographically located.
AHN myLab® Vortex Shaker 4200 rpm
The AHN myLab® Vortex Shaker is a powerful yet user-friendly mixer that integrates well into COVID-19 diagnostic workflows. With a large and intuitive digital display, operators can effortlessly adjust the speed to allow gentle mixing (e.g. reconstitution of primers with nuclease-free water) or more vigorous mixing (e.g. samples with buffer). This multiplatform mixer also features continuous and touch modes as well as a large digital display for monitoring the speed and time of operation. In the touch mode, the rotary action activates as soon as a tube is pressed onto the cup attachment.
The standard cup attachment is great for mixing reagents in single tubes and multiple optional attachments allow the AHN myLab® Vortex Shaker to accommodate microtubes, plates and flasks. For safety of operators and valuable patient samples, the maximum permissible speed for each attachment is indicated on the side of the AHN myLab® Vortex Shaker. The versatility of the AHN myLab® Vortex Shaker makes it an excellent choice for larger testing labs that handle a variable number of patient samples.
To ensure homogeneous mixing, the AHN myLab® Vortex Shaker is powered by an efficient brushless motor with a 4 mm orbital diameter. The brushless design means there is less friction as the motor rotates, resulting in longer run times for higher sample throughput. Mixing efficiency can be enhanced by engaging the programmable pulse mode which allows for intermittent shaking.
Just as the AHN myLab® Mini Vortex, the AHN myLab® Vortex Shaker can function well at a diverse range of temperatures (5°C to 40°C) and humidity levels (up to 80%). This versatile and powerful vortexer and shaker would find a place in all diagnostic laboratories that are at the frontlines of the battle against COVID-19.
The battle will be won
While the battle against COVID-19 is far from over, at AHN we believe that we can do our part to increase humanity's gains against SARS-CoV-2 by providing reliable testing instruments and laboratory supplies. To highlight our commitment to the cause, we remain available for your service. We have put in place measures that will ensure the safety of our staff members, delivery partners and our customers who are at the frontlines of the battle. Together we will overcome this pandemic.
Contact us today to discuss the best instruments for your diagnostic laboratory's needs.