A microcentrifuge is an important piece of equipment for any laboratory, as it is used for spinning a variety of samples at high speed, enabling, for example, the pelleting of nucleic acids or proteins from solution, microfiltration of small aqueous samples and gathering liquid into the bottom of a tube to avoid wastage. Having a microcentrifuge in your lab, your samples can be evenly spun without the need for a technician to be nearby. Repeated samples can be treated in the same manner. Your samples can be introduced to the machine by a number of technicians, but their treatment will remain the same.
So how to choose the right microcentrifuge for Your lab?
There are multiple microcentrifuge models available on the market. A microcentrifuge is for sure a long-term investment, so there are some key questions to ask yourself when you are choosing how to spend your money.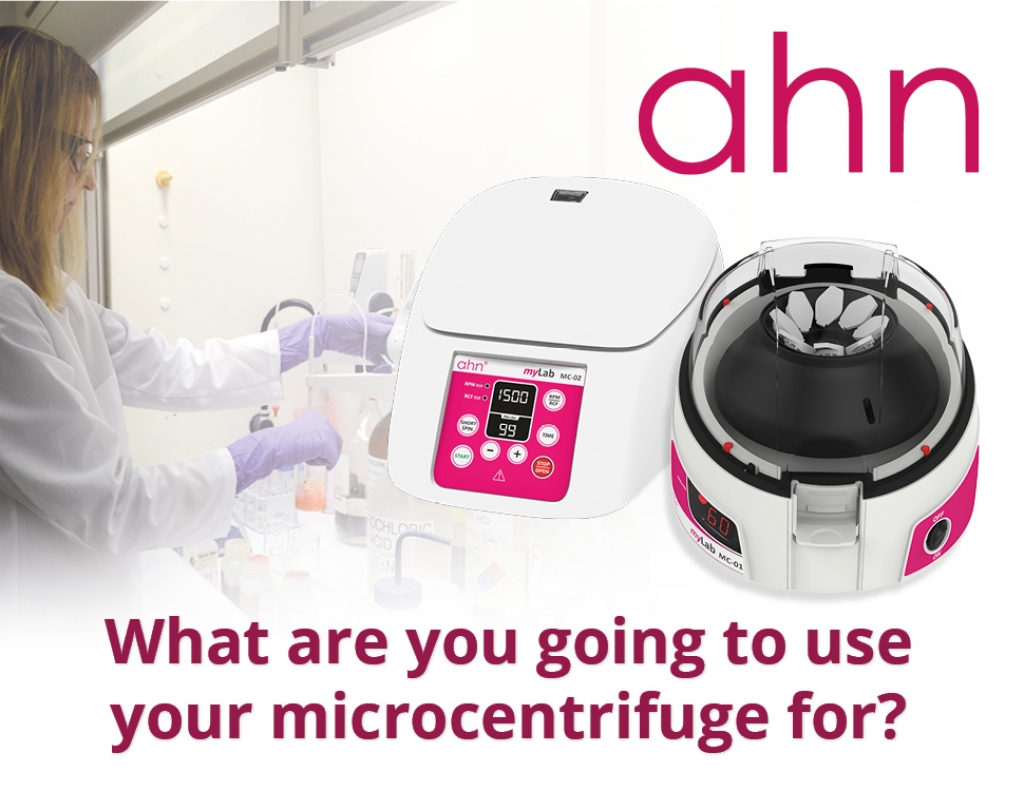 What is the application scope of your new microcentrifuge?
What g-force and volumes of material you are looking at working with? You will also need to think about how many people will be using the microcentrifuge, how much the microcentrifuge is going to be used per day and in which environment. Finally, what budget you have available to buy your microcentrifuge for?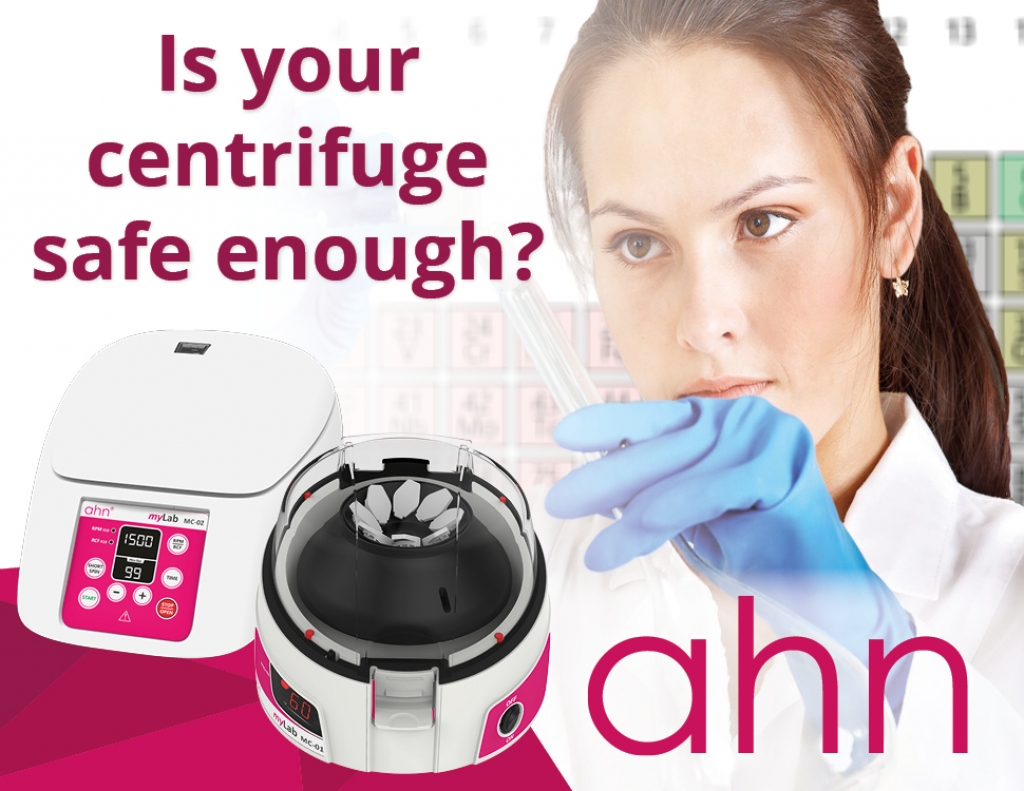 Is the model you have chosen safe enough?
A microcentrifuge is working with relatively high force, thus have a look at the safety features it is offering you. Important safety features to consider when purchasing a microcentrifuge include whether the machine will run if the samples are not carefully distributed to provide the best balance. Whether there is a lid to the machine to protect technicians from tubes that break during the centrifugal process. Does the lid stay locked until the program is complete? Under what temperature and humidity conditions will the microcentrifuge operate safely?
These are the basic questions to consider when choosing the microcentrifuge for your lab. Now let's have a look at the options!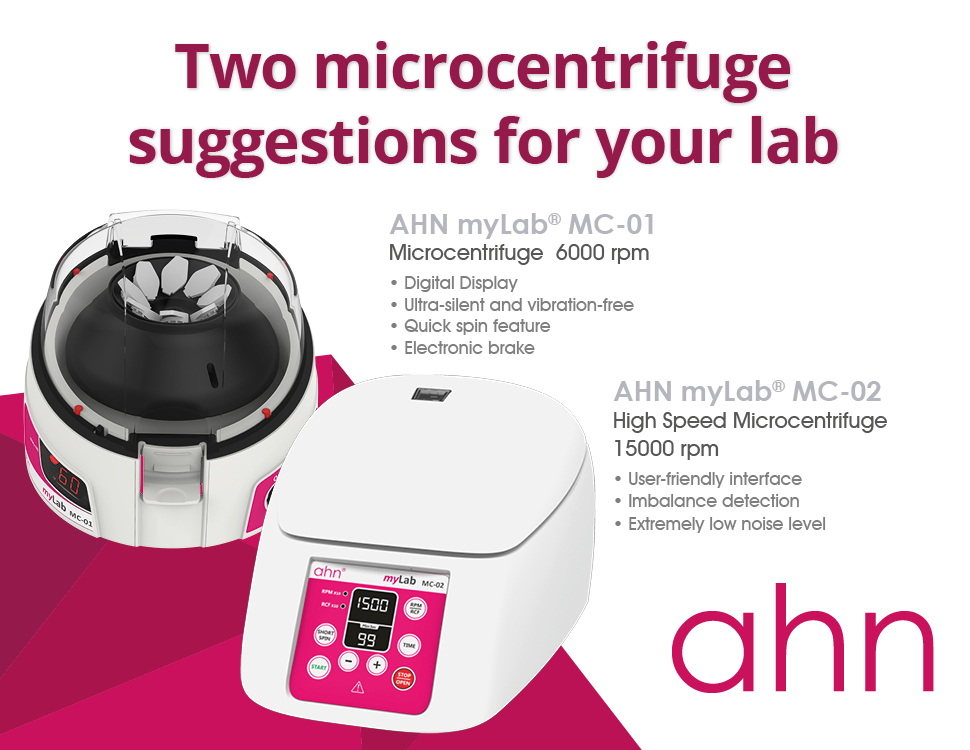 We have two microcentrifuge suggestions for Your lab.
AHN offers you two microcentrifuges to choose from, both offering great value for money and performing different laboratory functions.
AHN myLab® 15000 rpm and 6000 rpm microcentrifuge
The AHN myLab® microcentrifuge 15000 rpm and the 6000 rpm models both have the brushless DC motor common in all AHN benchtop laboratory equipment. This means that they are both extremely quiet generating no more than 60 decibels and can run for extended periods, rarely requiring maintenance. On both microcentrifuge models, vertical adaptors to accommodate 0.2mL and 0.4mL microtubes can be easily fitted.
The rotors can be easily detached and removed using the Allen key supplied with the equipment, if there is any sample spillage, which should be cleaned up immediately to protect the integrity of the device.
AHN myLab® microcentrifuge 15000 rpm and 6000 rpm are both easy to program and have large and easy to read displays making them perfect for keeping an eye on from across the room whilst you concentrate on other tasks in the laboratory to make the most of your working hours.
Both microcentrifuge models can operate inside hoods or in cold rooms and function in temperatures of up to 40°C and 80% humidity. They also stay firmly attached to the benchtop and retain their position even during operation.
Closer look on each microcentrifuge model
AHN myLab® 6000 rpm microcentrifuge is specially designed to undertake microfiltration, cell separation, centrifugal tube sedimentation and spin down applications. It has a maximum volume of 8 x 1.5/2mL microtubes and adaptors for 0.2/0.4mL tubes.
This microcentrifuge has a footprint of just 162x157x115mm (WxDxH), making it a compact yet powerful addition to your laboratory.
The lid of this microcentrifuge is specially designed so that it cannot be accidentally opened during the operation of the machine. Additionally, if the microtubes are not carefully placed so as to balance the rotor it will not operate. Follow the link and click on the TEST PRODUCT FOR FREE right-side button to arrange a free demonstration unit of AHN myLab® 6000 rpm microcentrifuge.
AHN myLab® 15000 rpm microcentrifuge is designed for blood centrifugation and other applications in a clinical laboratory.
This microcentrifuge will not run if the tubes are not placed carefully to balance the rotor. The centrifuge will also not run with the lid open. The lid will open once the programmed run has completed, or if there is a power cut.
As with the 6000 rpm model, the 15000 rpm model has a compact benchtop footprint of 260x244x205mm (WxDxH). Follow the link and click on the TEST PRODUCT FOR FREE right-side button to arrange a free demonstration unit of AHN myLab® 15000 rpm.