AHN myLab® Universal Centrifuge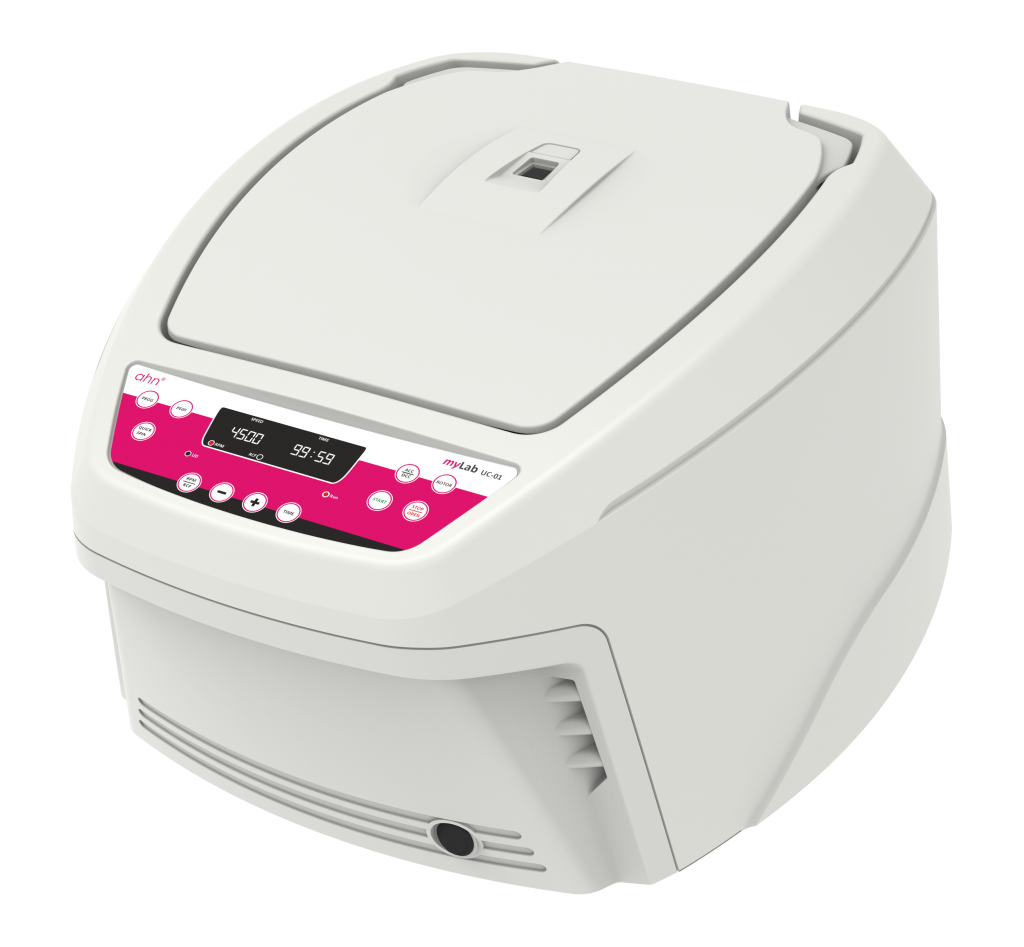 Try Our Product
---
Our local distributor will contact you to arrange free samples for testing.
AHN Universal Centrifuge: The one device to rule them all
After years of innovative manufacturing, listening to customer feedback, and refining our processes, we believe that we have finally produced the best universal centrifuge. The AHN universal centrifuge is an all-rounder that is designed to deliver unparalleled performance and efficiency when spinning down samples for a variety of applications in life science labs. In this article, we will give you an overview of some of the remarkable features of the AHN universal centrifuge.
Universal Centrifuge with an intuitive control panel
An intuitive control panel allows users to adjust all key operating parameters of the AHN universal centrifuge with ease. At the center of the control panel is a large, comfortable digital display that is easy to read. This beautiful display makes all operating variables accessible to users at all times. The responsive touch buttons that are dotted neatly around the display make it easy to adjust the spin time (1 – 999 min), spin speed, and to set up custom programs (up to 99). An accessible short spin mode allows for ultra-short pelleting and centrifugation. The AHN universal centrifuge also opens up a whole new level of automation by allowing remote operation via USB.
Universal Centrifuge with high performance brushless DC motor
At the heart of the AHN universal centrifuge is a low maintenance brushless DC motor (BLDC) that is engineered for both speed and endurance. The brushless motor of the AHN universal centrifuge allows users to select the ideal spin speed (500 – 4500rpm) for their samples and the device will maintain it for up to 999 minutes. Thanks to its innovative motor design, the AHN universal centrifuge features 9 acceleration and 9 deceleration modes. These modes give users more control over the starting and stopping of spin cycles, protecting fragile samples from damage.
Universal Centrifuge with a plethora of rotor options
Versatility is baked right into the DNA of the AHN universal rotor and this is best seen in its wide range of rotor options. The universal centrifuge supports both fixed angle rotors and swing-out rotors allowing users the choice of rotor best tailored for their unique protocols. The swing out rotors accommodate a range of tube sizes ranging from 10mL – 100mL while the fixed angle rotors accept tubes in the range 15mL – 100mL. There is even a swing rotor for microplates, which speeds up microplate preparation protocols. The stainless-steel rotor chamber is easy to clean and keeps corrosion at bay.
Compact Universal Centrifuge
For a device of its class, the AHN universal centrifuge has a compact size that masks the powerful performance under the hood. With dimensions of only 595 x 436 x 311 mm (W x D x H), the universal centrifuge takes up little workbench real estate. A relatively medium weight (23 kg w/o rotor) stabilizes the device during operation. The petite size of the AHN universal centrifuge makes it possible for space confined laboratories to also enjoy the benefits of having a high-performance centrifuge without settling for underwhelming alternatives.
Safety focused Universal Centrifuge
The AHN universal centrifuge is designed with the safety of both the end-user and the precious "sample" in mind. A lid-lock safety brake keeps the lid tightly closed until the rotor has come to a halt. An emergency lid release feature is also available, and this kicks in once the power supply to the device has been completely removed. During operation, an electronic imbalance detection feature stops the device when uneven loading is detected. An intelligent air distribution system also keeps samples cool during spinning.
Test out the AHN Universal Centrifuge today
That is a quick overview of the AHN universal centrifuge, and there's a lot more that can be said of this outstanding all-rounder. The best way to fully come to grips with the excellent features of this universal centrifuge would be to experience it. That is why we are offering you an opportunity to test out the AHN universal centrifuge in your lab, free of charge. This way, you can see how it fits in your workflow before committing to ordering one (or two…or more) for your lab. Click here to order your free test unit today!
Ordering Information
| Description | Cat. No. |
| --- | --- |
| AHN myLab UC-01 Universal Centrifuge 4500 rpm | 7-030-00-0 |
| 4x100mL swing rotor with Bio Safety Cap, RCF 3164 x g | CR-43-100 |
| 6x50mL swing rotor with stainless steel tubes | CR-43-50 |
| 16x15mL swing rotor with stainless steel tubes, RCF 3485 x g | CR-43-15 |
| 2 x Microplates Swing rotor, RCF 2355 x g | CR-43-PL |
| 4x100mL Fix angle rotor, RCF 2559 x g | CR-43-100F |
| 24x15mL Fix angle rotor RCF 2852 x g | CR-43-15F-24 |
| 16x15mL Fix angle rotor, RCF 3144 x g | CR-43-15F-16 |
| 32x6mL swing rotor, RCF 3164 x g (includes 32x6mL stainless steel tubes, diameter 13mm, length 100mm) | CR-43-06 |