AHN myPette® Pro Manual Single and Multichannel Pipettes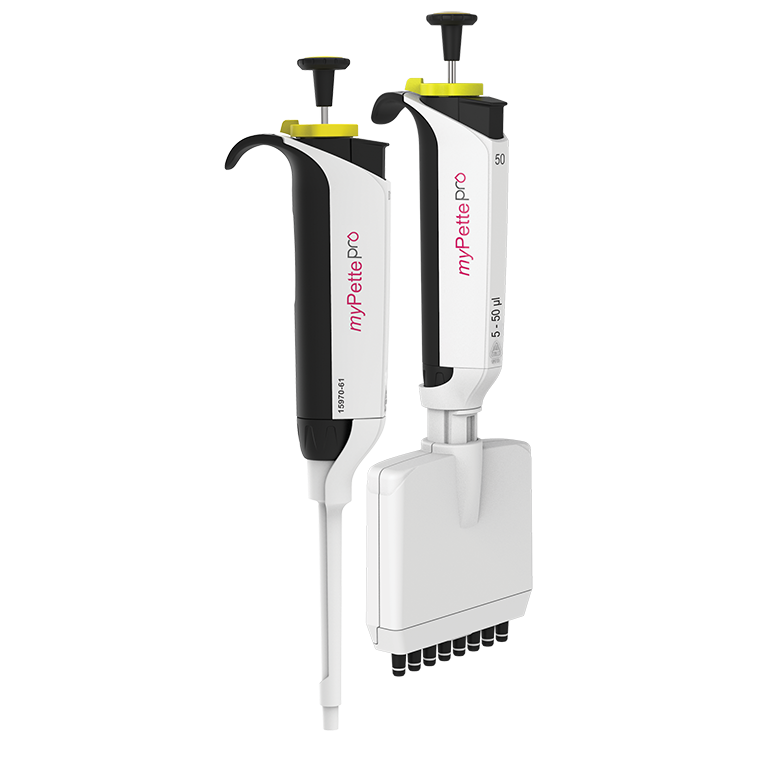 Try Our Product
---
Our local distributor will contact you to arrange free samples for testing.
AHN myPette® Pro Manual Single and Multichannel Pipettes
The pipette is a quintessential laboratory tool and it is easy to be overwhelmed with many options to choose from. But fear not! AHN is pleased to present the myPette® Pro for all your pipetting applications. Boasting an innovative, durable and ergonomic design, while guaranteeing accuracy and precision in performance, our line of pipettes are sure to satisfy your needs and reduce the hassle involved in choosing pipettes for your laboratory. Keep reading below to learn more about this incredible product and why you need an AHN myPette® Pro pipette in your lab.
Pipettes with a Wide Range of Volumes and Configurations
The myPette® Pro line of pipettes comes in single and multichannel pipette configurations to suit your laboratory needs. Single channel models have a total range of 0.2 µL to 1000 µL, with 2, 10, 20, 50, 100, 200, 300, 1000, 5000 and 10000 µL options. Of key interest are the 50 and 300 µL options which are not common configurations among competitor offerings. The multichannel models have a range of 0.5 µL to 300 µL with an upcoming 1200 µL model coming soon! These models are available in 2, 10, 50, 200, 300 µL options as well as the unique 20 and 100 µL options. Unleash your potential with a myPette® Pro pipette to meet any of your needs!
Ergonomically Designed Pipettes
Repeated strain injury or RSI is common in users who engage in extensive pipetting activities. This highlights and stresses the importance of the ergonomic pipette design. When you choose an AHN myPette® Pro pipette, you choose a pipette that has optimum weight distribution to reduce strain on the hands, having one of the lowest plunging force for aspiration and dispensing either by forward or reverse pipetting. In addition, our design offers effortless tip ejection with a unique silicone-based shock absorbing mechanism. The myPette® Pro features a large 4-digit display that is not only easy to read but is conveniently placed below the finger rest position, allowing the user to easily view and verify volume settings during pipette operation. No more palms awkwardly covering the display and interrupting your work flow, as is common in many competitor products!
Accurate and Precise Pipettes with Industry Standard Calibration
All of our pipettes are calibrated with strict adherence to the ISO 8655-6 standard. This ensures that accuracy and precision are well within their capabilities and leaves the worry of errors of micropipetting errors behind you! In addition, all myPette® Pro pipettes offer easy calibration, only needing one key after removal of the top knob. Compare this to competitor products which require two keys.
Pipettes with Magnet Assisted Piston with Innovative Spring Design
myPette® Pro pipettes feature a unique magnet assisted piston mechanism that provides and unmistakable difference between the first and second pipette stops. This eliminates the need to use a heavy spring in the pipette piston mechanism while still allowing consistent aspiration and dispensing with and extremely minimal pipetting force. This is further enhanced by our innovative spring and seal design giving myPette® Pro pipettes some of the lowest plunging forces available. Compare this to competitor products that do not have magnet assisted pistons and use low and soft spring systems, both of which can lead to RSI due to increased applied plunging force.
Highly Durable, Autoclavable and UV Resistant Pipette Construction
Our pipettes are made using highly durable materials and components, making them resistant to chemical and physical wear. In addition, all myPette® Pro pipettes can be UV sterilized and are fully autoclavable without the need to be reverified and recalibrated afterwards. The tip cones are made of thermostable and non-reactive polyvinylidene fluoride (PVDF) with an option between a cost effective plastic tip ejector or a more premium metal ejector. Versatility without sacrificing quality!
Innovatively Designed Pipettes with tons of Features
Just when you thought they couldn't get any better, myPette® Pro pipettes will surprise you with a plethora of additional features. This includes a dial adjustment knob with volume lock switch that offers one handed operation (compared to most competitor products that require two hands), color coded knobs for easy volume identification and universal tip compatibility allowing usage with a wide range of pipette tips. Not to mention, our multichannel pipettes features a spring loaded tip cone with O-rings to ensure easy and secure tip fitments, sequential tip ejectors and a 360 degree rotating manifold. These are just a few features that set our myPette® Pro pipettes a cut above the rest.
Test AHN myPette® Pro worldwide today!
If you are looking for a well-built, easy to use and reliable pipette that doesn't compromise on quality, accuracy and precision, then the myPette® Pro is the pipette for you. With unique and innovative features. It is clear that our pipettes are simply a ahead of the competition in almost every aspect. You cannot go wrong with the myPette® Pro line! So look no further and order the pipette or set of pipettes that right for you!
For Spare Pars kindly refer to the User Guide.
Tips recommended for AHN myPette® pro Single and Multichannel Pipettes
Specificaton
myPette® Pro single channel pipettes, fixed volume
| Volume | Test volume | Increments | Inaccuracy | Imprecision | Cat. No. |
| --- | --- | --- | --- | --- | --- |
| 2.5 μL | 2,5 μL | - | 2.00 % | 1.60 % | 8-000-30-9 |
| 5 µL | 5µL | - | 1.30 % | 1.20 % | 8-001-30-9 |
| 10 μL | 10 μL | - | 1.20 % | 0.60 % | 8-002-30-9 |
| 20 μL | 20 μL | - | 1.00 % | 0.30 % | 8-003-30-9 |
| 25 μL | 25 μL | - | 1.00 % | 0.30 % | 8-004-30-9 |
| 50 μL | 50 μL | - | 0.70 % | 0.30 % | 8-007-30-9 |
| 100 μL | 100 μL | - | 0.60 % | 0.20 % | 8-008-30-9 |
| 200 μL | 200 μL | - | 0.60 % | 0.20 % | 8-009-30-9 |
| 250 μL | 250 μL | - | 0.60 % | 0.30 % | 8-010-30-9 |
| 500 μL | 500 μL | - | 0.60 % | 0.20 % | 8-011-30-9 |
| 1000 μL | 1000 μL | - | 0.60 % | 0.20 % | 8-012-30-9 |
| 2 mL | 2 mL | - | 0.30 % | 0.15 % | 8-013-30-9 |
| 5 mL | 5 mL | - | 0.30 % | 0.15 % | 8-015-30-9 |
| 10 mL | 10 mL | - | 0.60 % | 0.20 % | 8-016-30-9 |
myPette® Pro single channel pipettes, variable volume
Volume
Test volume
Increments
Inaccuracy
Imprecision
Cat. No.
0.1-2.5 μL
0.25 μL
0.002 μL
12.00%
6.00%
8-100-30-9
1.25 μL
2.50%
1.50%
2.5 μL
2.50%
0.70%
0.5-10 μL
1 μL
0.02 μL
2.50%
1.50%
8-101-30-9
5 μL
1.50%
0.80%
10 μL
1.00%
0.40%
2-20 μL
2 μL
0.02 μL
3.00%
1.50%
8-102-30-9
10 μL
1.20%
0.60%
20 μL
0.90%
0.30%
5-50 μL
5 μL
0.1 μL
2.00%
2.00%
8-103-30-9
25 μL
0.80%
0.40%
50 μL
0.60%
0.30%
10-100 μL
10 μL
0.1 μL
3.00%
1.00%
8-104-30-9
50 μL
1.00%
0.30%
100 μL
0.80%
0.20%
20-200 μL
20 μL
0.2 μL
2.50%
0.70%
8-105-30-9
100 μL
0.70%
0.30%
200 μL
0.60%
0.20%
100-1000 μL
100 μL
1.0 μL
3.00%
0.60%
8-106-30-9
500 μL
1.00%
0.20%
1000 μL
0.60%
0.20%
0.5-5 mL
0.5 mL
10 µL
2.40%
0.60%
8-107-30-9
2.5 mL
1.20%
0.25%
5 mL
0.60%
0.20%
1-10 mL
1 mL
20 µL
3.00%
0.60%
8-108-30-9
5 mL
0.80%
0.20%
10 mL
0.60%
0.15%
myPette® Pro multichannel pipettes, variable volume
Volume
Channel
Test volume
Increments
Inaccuracy
Imprecision
Cat. No.
0.5-10 μL
8
1 μL
5 μL
10 μL
0.02 μL
8.00 %
4.00 %
2.00 %
5.00 %
2.00 %
1.00 %
8-201-30-9
2-20 µL
8
2 µL
10 µL
20 µL
0.02 µL
7.00 %
3.00 %
2.00 %
3.00 %
2.00 %
1.6 %
8-205-30-9
5-50 μL
8
5 μL
25 μL
50 μL
0.10 μL
3.00 %
1.50 %
1.00 %
2.00 %
1.00 %
0.70 %
8-202-30-9
10-100 µL
8
10 µL
50 µL
100 µL
0.10 µL
3.00 %
1.00 %
0.80 %
2.00 %
0.80 %
0.30 %
8-204-30-9
20-200 µL
8
20 µL
100 µL
200 µL
0.20 µL
5.00 %
1.00%
0.70 %
1.40 %
0.40 %
0.25 %
8-206-30-9
30-300 μL
8
30 μL
150 μL
300 μL
0.20 μL
3.00 %
1.00 %
0.60 %
1.00 %
0.50 %
0.30 %
8-203-30-9
0.5-10 μL
12
1 μL
5 μL
10 μL
0.02 μL
8.00 %
4.00 %
2.00 %
5.00 %
2.00 %
1.00 %
8-401-30-9
2-20 µL
12
2 µL
10 µL
20 µL
0.02 µL
7.00 %
3.00 %
2.00 %
3.00 %
2.00 %
1.6 %
8-405-30-9
5-50 μL
12
5 μL
25 μL
50 μL
0.10 μL
3.00 %
1.50 %
1.00 %
2.00 %
1.00 %
0.70 %
8-402-30-9
10-100 µL
12
10 µL
50 µL
100 µL
0.10 µL
3.00 %
1.00 %
0.80 %
2.00 %
0.80 %
0.30 %
8-404-30-9
20-200 µL
12
20 µL
100 µL
200 µL
0.20 µL
5.00 %
1.00%
0.70 %
1.40 %
0.40 %
0.25 %
8-406-30-9
30-300 μL
12
30 μL
150 μL
300 μL
0.20 μL
3.00 %
1.00 %
0.60 %
1.00 %
0.50 %
0.30 %
8-403-20-9
Delivery Package
Delivery package
1 pc. Manual pipette
1 pc. Instruction manual
1 pc. Calibration tool
1 pc. Conformity & Calibration certificate
1 pc. Warranty card
1 pc. Shelf-mounting stand