AHN myPlate® Microfilter Plate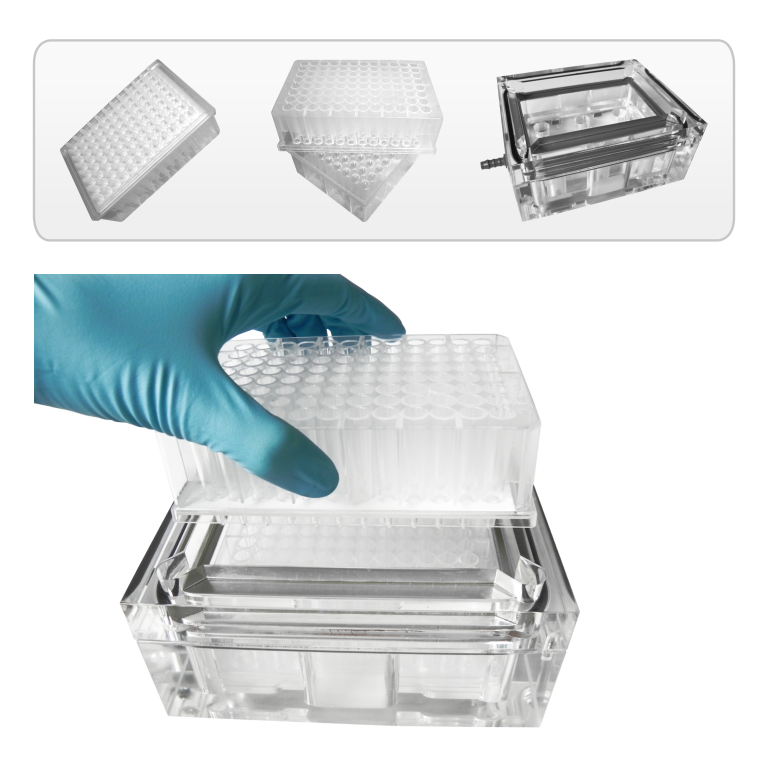 Try Our Product
---
Our local distributor will contact you to arrange free samples for testing.
AHN myPlate® Microfilter Plate
AHN myPlate® microfilter plates are a great product for those research laboratories and institutions that want to scale processes such as nucleic acid purification, recovery and purification of proteins, next generation sequencing sample preparation, along with many other diverse protocols involving plasmid, viral and genomic DNA.
AHN myPlate® microfilter plates make a great complement to AHN myTube® spin columns in those times when sample numbers are large, and the processing time is limited. Contact us to obtain free samples of AHN myPlate® Microfilter Plate to test on your particular application.
Applicational Scope of AHN myPlate® Microfilter Plates
AHN myPlate® microfilter plates can be used in a diversity of protocols due to the various filter membrane options that are available for the system. This allows customers to work with one design that can be applied to a great diversity of usage scenarios. The 96 well format allows cost effective scaling of experimental procedures and high throughput sample processing.
PCR Purification with AHN myPlate® Microfilter Plates
AHN myPlate® microfilter plates with Glass Fibre Filters are best suited for high throughput purification of RNA, genomic DNA and plasmid DNA. Glass fibre filters have a high nucleic acid retention capacity and salt removal efficiency of up to 99.99%.
After running a polymerase chain reaction (PCR) it is often necessary to separate the PCR products from the reaction mix (nucleotides, primers, enzymes, and buffer).
See how AHN myPlate® microfilter plates can streamline your PCR clean up by providing an efficient DNA recovery process.
Genomic DNA extraction is a fundamental process in molecular biology that enables a variety of applications such as cloning and sequencing, among others.
Find out how AHN myPlate® microfilter plates can simplify and speed up your process of genomic DNA extraction resulting in high quality nucleic acids for downstream processing.
AHN myPlate® microfilter plates offer a quick and affordable way to recover concentrated DNA from agarose gels. Discover the DNA gel purification with AHN myPlate® microfilter plates, being a simple 3-step process that can be summarized in the three words bind, wash, and elute. The DNA clean up process revolves around the glass bead filter technology at the core of each AHN myPlate® microfilter plate well which ensures high-affinity DNA binding and easy elution. Nucleic acids recovered with AHN myPlate® microfilter plates based DNA gel purification can be used for sequencing, restriction enzyme digestion, ligation, library construction among other applications.
Molecular biologists often isolate plasmid DNA from microbial cells for various applications such as sequencing, cloning, and gene therapy among others. Plasmid miniprep approaches allow for rapid harvesting of plasmid DNA from bacterial cells using protocols that involve spin columns with silica-based plasmid binding filters.
See how AHN myPlate® microfilter plates with glass bead filters can optimize your Plasmid Preparation with a broad range of commercially available plasmid preparation reagents.
AHN myPlate® microfilter plates are also available with Polyethylene Filters, being a brilliant option for prefiltration and coarse filtration with a focus on particulate removal.
Further Applicational Scope of AHN myPlate® Microfilter Plates
AHN myPlate® microfilter plates are available with further filter options on request. Contact to obtain the ordering information.
Further filter options of AHN myPlate® microfilter plates include:
Synthetic polymer filters, having an excellent chemical resistance and temperature stability
Polyvinylidene fluoride filters, ideal for general filtration and sample preparation, having high flow rates and very low extractables
Nylon filters, ideal for a wide variety of applications, having a hydrophilic nature and above-par chemical resistance of nylon. This type of filter is great for cell and particulate removal from liquids as well as DNA recovery from acrylamide and agarose gels.
Cellulose acetate, having a hydrophilic, low-adsorption and low binding characteristics. These properties are desirable in experimental procedures such as tissue culture media filtration, cold sterilisation and biological fluid filtration where maximum protein yields are desirable.
Regenerated cellulose, with broad solvent compatibility and low extractables, for greater sample purity.
Anatomy of the AHN myPlate® Microfilter Plates
AHN myPlate® microfilter plates are crafted from choice-grade virgin polystyrene, ensuring each microfilter plate has outstanding transparency. AHN myPlate® microfilter plates come fitted with long drip directors that allow for secure use while concomitantly reducing cross-contamination.
Currently, myPlate® microfilter plates are supplied with an 8 × 12 matrix arrangement, spotted with a total of 96 wells. Each well has a generous sample volume of 1 mL, making the microfilter plates adaptable to a diversity of applications within the laboratory. The robust design of AHN myPlate®  microfilter plates makes sample processing very quick and easy.
The system consists of a myPlate® microfilter plate that sits above a U-bottom (deep well) receiver plate and a filter fitted to the bottom of each well. The deep well microplate is made from high-grade transparent polystyrene, and it conforms to SBS standards. This allows for universal use in laboratory applications that employ SBS-compliant robotic systems. The filter membranes options are configurable at purchase to meet the needs of the researcher.
Specification
Filter options
SC
FP
Glass fibre (GF) filter characteristics - recommended for the purification of DNA and RNA /
prefiltering of dirty solutions / rapid flow rate and high particle loading capacity
✔️
✔️
Polyethylene (PE) filter characteristics - suitable for particle-removing coarse filtration /
can be used both as a prefilter or as support filter in combination with other filters /
hydrophobic / very good chemical resistance
✔️
✔️
Further filter option are available on request. These include Nylon (recommended for filtering protein-free culture media), Cellulose Acetate (recommended for applications requiring low protein binding), Regenerated Cellulose (suitable for particle removal from solvents) and Polyvinylidene Fluoride (used in general filtration and sample preparation applications). Contact for ordering information.
Ordering Information
| Description - microfilterplate system | Colour | Pack Type | Sales Unit | Cat. No. |
| --- | --- | --- | --- | --- |
| AHN myPlate® FP 96-wells, 1.0 mL, GF-FF filter | clear | bag | 5x5 | 3-210-25-0 |
| AHN myPlate® FP 96-wells, 1.0 mL, GF/N 1.6 μm filter | clear | bag | 5x5 | 3-210-25-2 |
| AHN myPlate® FP 96-wells, 1.0 mL, PE 20-60 μm filter | clear | bag | 5x5 | 3-225-25-0 |