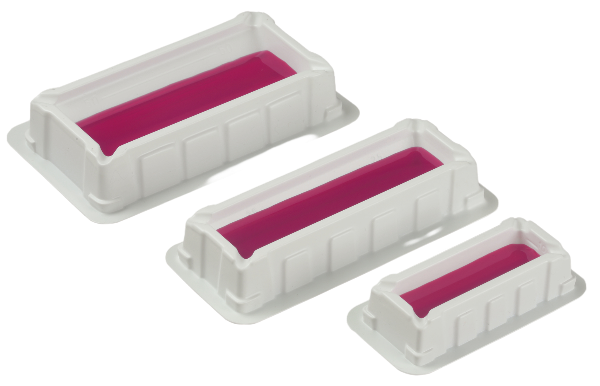 Try Our Product
---
Our local distributor will contact you to arrange free samples for testing.
Ahn Reagent Reservoirs
The ahn Reagent Reservoirs are made out of a unique blend of Polystyrene and are available in three different sizes (10 mL, 25 mL, 50 mL).
Large sturdy base with graduation marks
The extra large,sturdy base with the broad edges enable the ahn Reagent Reservoirs to stand firmly on your workbench. For easy and accurate dispensing feature our Reservoirs graduation marks which help you to identify any remaining liquid.
Angled interior and spillproof
The angled interior of our Reagent Reservoirs supports the collection of the liquid and decreases reagent waste. While processing liquid you don't need to worry about spillage because our reservoirs are spillproof.
Compact storage and easy pouring
To store the remaining liquid you can empty the reservoirs using one of the corners. For compact storage you can stack the reservoirs easily and separate them by using the reservoir lip.
Ahn Reagent Reservoirs are ideal for using with all AHN Single and Multichannel Pipettes
To suit the various pipettes our reservoirs come in three different sizes:
10 mL, V-shaped bottom (ideal with 8- and 16-channel pipettes)
25 mL, flat bottom (ideal with multichannel pipettes)
50 mL, V-shaped bottom (ideal with 12-channel pipettes)
Ordering Information
| Description | Pack Type | Sales Unit | Cat. No. |
| --- | --- | --- | --- |
| AHN Reagent Reservoirs 10 mL | bag | 5x100 | 3-701-11-9 |
| AHN Reagent Reservoirs 25 mL | bag | 5x100 | 3-702-11-9 |
| AHN Reagent Reservoirs 50 mL | bag | 5x100 | 3-703-11-9 |