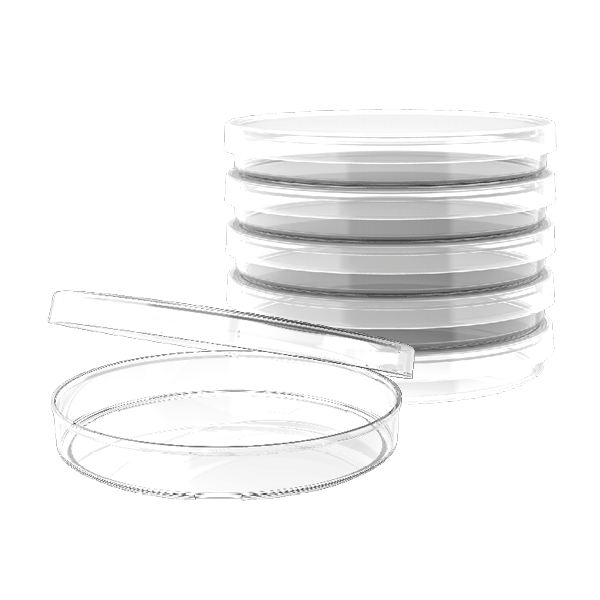 Try Our Product
---
Our local distributor will contact you to arrange free samples for testing.
AHN Petri Plates: Excellent clarity, world-class quality
AHN Petri dishes are designed to offer the best culture experience for a variety of microbes. Manufactured with today's microbiologists in mind, each Petri plate offers consistent product dimensions, world-class clarity, and exceptional thermal properties. These features, among others, help microbiologists create the best environment for microbes to grow, enabling accurate patient diagnoses as well as accurate life science research. In this article, we will outline some of the key features of AHN petri plates that make them an excellent choice for your next microbial culture.
Premium polystyrene Petri Plates
AHN Petri dishes are made from premium quality polystyrene, giving the scientists the assurance that AHN Petri plates are bio-compliant with most microbiology applications, and that these Petri dishes will not potentially leach unwanted chemicals into the culture.
Petri Dishes with traceable quality
While Petri plates are often thought of as consumables of little consequence, we consider them an essential tool in the life science laboratory. That is why each batch of AHN Petri dishes is supplied with a traceable lot number as well as info on sterility and expiration. This allows us to minimize failure in our quality control processes and to detect failures rapidly. By committing to traceable quality, we have perfected the art of manufacturing premium Petri plates that are guaranteed to perform well in most microbiology applications.
Thermally stable, optically clear Petri Plates
All AHN Petri plates are manufactured from a special polystyrene material that offers the best balance between optical clarity and thermal stability for exceptional microbial cultures. The thermal properties of each Petri plate are optimized for even heat distribution during incubation. This allows microbes to grow evenly throughout the media. When it is time to look at cultures, the optimal clarity of each plate allows for an unimpeded viewing from the top and the bottom of the plate. As a result, observing colony morphology, growth patterns, and hemolysis on AHN Petri plates is easy and accurate because of the excellent clarity of each Petri dish.
Fully stackable and lightweight Petri Dishes
As space is never enough in most life science laboratories, space-efficient consumables make science more fun. AHN Petri dishes are supplied in a regular, space efficient 90 mm diameter that fits perfectly in both big and small incubators. In addition to having the perfect diameter for culturing microbes, these Petri plates are lightweight and stackable. This allows several Petri plates to be stacked together for maximum space efficiency. The light weight of AHN Petri plates reduces strain on incubator shelves, allowing incubators to accommodate more plates per shelf when compared to glass alternatives.
Petri Dishes in stress-free packaging
While many products come in a variety of packaging options that can be confusing to customers, AHN Petri plates are supplied in one simple packaging option. Each bag contains 20 premium-quality Petri dishes making ordering much simpler. Each bag of 20 AHN Petri plates should also be sufficient for the average media preparation volume, allowing users to use all plates per batch of media. This minimizes the risk of contaminating unused Petri plates and potentially wasting resources.
Contamination-free Petri Dishes
To reduce the risk of contaminated microbial cultures, AHN Petri dishes are manufactured in a state-of-the-art facility with clean rooms. While the initial investment in this facility was huge, this was the only way we could ensure that we offer Petri dishes that are free of endotoxins, pyrogens, and other contaminants that may potentially interfere with the growth of microbial cultures. Our unwavering commitment to making the best Petri dishes on the market is only matched by the excitement that our customers have when they grow pure cultures of easy or challenging microbes. Science should be exciting, contaminated Petri dishes should not spoil the fun!
Vented and non-vented Petri Plates
AHN Petri plates are supplied in two formats, vented and non-vented. Vented Petri plates have a raised lip at the top of the wall that enables free gas and vapor exchange with the environment, while keeping the plate sterile. This allows for excess moisture to escape from the Petri dish, while allowing a fresh supply of oxygen and other gases from the environment. As the lip is raised, airflow dynamics prevent contamination of media on the Petri plate. Non-vented Petri plates have no raised lip and reduce moisture loss and gas exchange. These Petri dishes are ideal for long-term media storage and for culturing anaerobes.
Test free samples of AHN Petri Plates today!
We are excited about the new AHN Petri dishes, and we are sure you will love them too. To try out these premium, disposable Petri plates in your laboratory we are excited to extend an exclusive offer to you. You can order a free sample of AHN Petri plates and we will ship it to your laboratory for free through our global network of distributors. We know that once you have experienced the difference that these Petri dishes make for your microbial cultures you will not look back. Click here to contact us and we will get these exceptional Petri dishes over to you in no time. Choose AHN Petri plates, choose quality!
Ordering Information
Description
Overflow Level
Diameter
Height
Vented
Aseptic
(CFU<105, ISO 6)
Sterilized
Packaging
Cat. No.
AHN myPlate® Petri Dishes
75 mL
91.5 mm
14.35 mm
No
Yes
No
Case / 24 x 20 pcs.
3-520-48-0
AHN myPlate® Petri Dishes
75 mL
91.5 mm
14.35 mm
No
Yes
Yes
Case / 24 x 20 pcs.
3-521-48-0
AHN myPlate® Petri Dishes
75 mL
91.5 mm
14.55 mm
Yes, 3 cams
Yes
No
Case / 24 x 20 pcs.
3-522-48-0
AHN myPlate® Petri Dishes
75 mL
91.5 mm
14.55 mm
Yes, 3 cams
Yes
Yes
Case / 24 x 20 pcs.
3-523-48-0
Product Literature (Download)