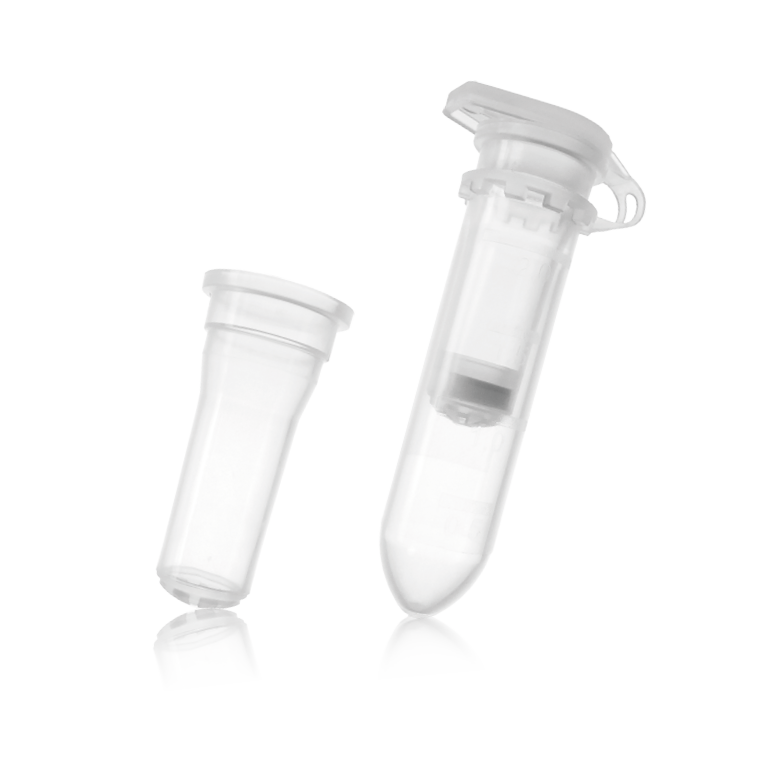 Try Our Product
---
Our local distributor will contact you to arrange free samples for testing.
AHN myTube® Spin Column
AHN myTube® Spin Column tubes are specially developed for use in purification, isolation and separation of biomolecules and have a wide range of application from DNA to RNA, from plasmid to viral and genomic DNA, from regular PCR purification to the next generation sequencing sample preparation. Contact us to obtain free samples of AHN myTube® Spin Column, which you can test on your specific application.
Applicational Scope of AHN myTube® Spin Column
Molecular biologists often isolate plasmid DNA from microbial cells for various applications such as sequencing, cloning, and gene therapy among others.
See how AHN myTube® Spin Columns can contribute to your Plasmid Preparation.
After running a polymerase chain reaction (PCR) it is often necessary to separate the PCR products from the reaction mix (nucleotides, primers, enzymes, and buffer), a process commonly referred to as PCR clean up.
Find out how AHN myTube® spin column system streamlines your PCR clean up by providing an efficient DNA recovery process.
AHN myTube® spin columns offer a quick and affordable way to recover concentrated DNA from agarose gels.
Discover more about DNA gel purification with AHN myTube® spin columns, being a simple 3-step process that can be summarized in the three words bind, wash, and elute.
Genomic DNA extraction is a fundamental process in molecular biology that enables a variety of applications such as cloning and sequencing, among others.
Read more on how AHN myTube® spin columns simplify and speed up the process of genomic DNA extraction resulting in high quality nucleic acids for downstream processing.
The anatomy of AHN myTube® Spin Column System
AHN myTube® spin column system includes a standard 0.8mL round bottom filter tube equipped with a corresponding filter and coupled with 1.5mL or 2.0mL receiver tubes. The full assembly of this spin column is designed to be compatible with the most common centrifuge systems. AHN myTube® spin columns can be used in centrifuges with 25.000 x g – fixed angle rotor up to 30.000 x g swing out rotor. The myTube® spin column system is characterised by high resistance to extreme mechanical strain and excellent chemical resistance.
The filter tubes, being the key component of the AHN myTube® spin column system, are constructed form a high-grade clear polypropylene that will not interfere with the reaction components. AHN myTube® spin columns are characterised by a high initial filtration rate and an optimal receiving volume making them an excellent choice for a wide variety of bioscience applications.
AHN myTube® spin columns are supplied with high quality filter membranes that correspond with a variety of common laboratory protocols. The filter membrane options are tailored to the customer's specific application and should be chosen to meet the requirements of the researcher. Filter membranes are constructed from a diversity of materials including glass fibre and polyethylene.
Receiver tubes are supplied in two volumes namely, 1.5mL and 2.0mL. Both volume configurations are compatible with myTube® filter tubes as the latter has a universal fit. The receiver tubes are graduated, with calibration lines showing clear volumes to lower sample handling errors. Like the filter tubes, myTube® receiver tubes are manufactured from premium-grade autoclavable, non-wettable, virgin polypropylene in AHN's ISO 9001 certified factory.
Wide scope of application for AHN myTube® Spin Column System
As aforementioned, AHN myTube® spin columns have a vast scope of applications. The unique applications of myTube® spin columns are best outlined by describing the properties and use cases of the various filters that are supplied for the kits. We encourage our customers to familiarise themselves with the documentation of each kit to ensure the best fit with their desired usage scenario.
Protein Purification with AHN myTube® spin columns
Specification
Filter options
SC
FP
Glass fibre (GF) filter characteristics - recommended for the purification of DNA and RNA /
prefiltering of dirty solutions / rapid flow rate and high particle loading capacity
✔️
✔️
Polyethylene (PE) filter characteristics - suitable for particle-removing coarse filtration /
can be used both as a prefilter or as support filter in combination with other filters /
hydrophobic / very good chemical resistance
✔️
✔️
Further filter option are available on request. These include Nylon (recommended for filtering protein-free culture media), Cellulose Acetate (recommended for applications requiring low protein binding), Regenerated Cellulose (suitable for particle removal from solvents) and Polyvinylidene Fluoride (used in general filtration and sample preparation applications). Contact for ordering information.
Ordering Information
| Description - spin column system | Colour | Pack Type | Sales Unit | Cat. No. |
| --- | --- | --- | --- | --- |
| AHN myTube SC 0.8 mL filter tube, GF-F2 filter, 2.0 mL receiver tube (recommended for DNA purification) | clear | bag | 2x100 | 3-320-20-0 |
| AHN myTube SC 0.8 mL filter tube, GF-N2 filter, 2.0 mL receiver tube (recommended for RNA purification) | clear | bag | 2x100 | 3-321-20-0 |
| AHN myTube SC 0.8mL filter tube, PE 20-60µm filter, 2.0mL receiver tube | clear | bag | 2x100 | 3-340-10-0 |
| Description - individual components spin column system | Colour | Pack Type | Sales Unit | Cat. No. |
| --- | --- | --- | --- | --- |
| AHN myTube® SC 0.8 mL filter tube w/o filter, w/ filterring | clear | bag | 2x1000 | 3-331-50-0 |
| AHN myTube® RT 2.0 mL receiver tube | clear | bag | 10x1000 | 3-202-80-0 |