AHN Robotic Tips Tecan® Type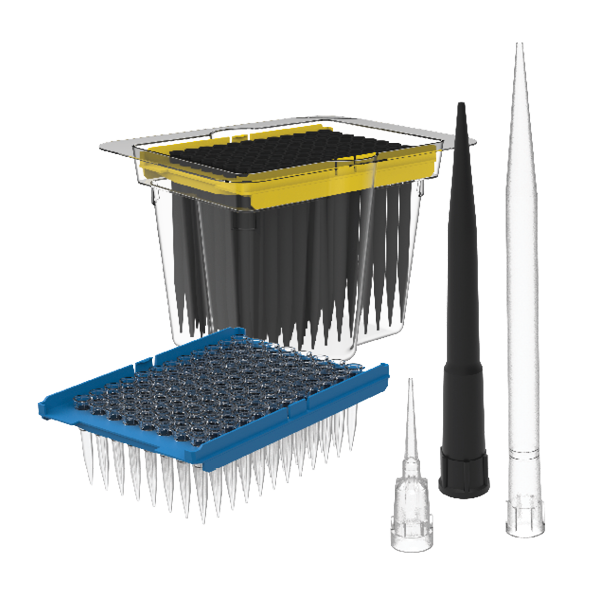 Try Our Product
---
Our local distributor will contact you to arrange free samples for testing.
Optimise Your Liquid Handling with AHN Robotic Tips Tecan® Type
AHN Robotic Tips Tecan® Type are the optimal choice to elevate your laboratory experience with cutting-edge technology and exceptional performance. Designed and validated meticulously, these tips are engineered to deliver unparalleled results when paired with LiHa® Arms. Say goodbye to inaccuracies and hello to precision with our innovative robotic tips.
The Ultimate Precision for Your Work
When it comes to optimizing your liquid handling processes, AHN Robotic Tips Tecan® Type stand out with features designed for ultimate precision. These tips are distinguished by their remarkable straightness and an exceptionally low coefficient of variation. With these advanced attributes, you can expect to experience a level of accuracy in liquid handling that goes beyond anything you've encountered before. This precision guarantees not only reliable but also reproducible results in every operation you undertake.
Reliable Durability, Unmatched Performance
Uncompromising durability is at the core of AHN Robotic Tips Tecan® Type. Crafted from premium-grade virgin polypropylene, these tips are engineered to endure even the most demanding applications. Regardless of the challenges posed by high-throughput processes, these tips maintain their structural integrity, ensuring consistent and reliable performance. If durability is a non-negotiable requirement for your liquid handling endeavors, these tips are the steadfast solution you've been searching for.
Versatility and Purity for Precise Research
The versatility and adaptability of AHN Robotic Tips Tecan® Type make them a perfect fit for the diversity of experiments in your research. Whether your needs call for carbon-embedded conductive tips or clear tips, these options are tailor-made to meet the exacting demands of your work without compromising on quality. Furthermore, the inclusion of a Polyethylene filter acts as a protective barrier, shielding your samples from aerosol contamination during aspiration and dispensing. With AHN Robotic Tips Tecan® Type, you're not just ensuring accurate results, but you're also prioritizing the preservation of your valuable samples' integrity. Moreover, these tips are manufactured with certified purity, meeting the highest standards. Constructed from USP class VI resins and certified to be free of contaminants like Endotoxin, Heavy Metals, RNase, DNase, and DNA, these tips guarantee trustworthy and contamination-free liquid handling.
Introducing the Ultimate Multifunctional Solution
AHN Robotic Tips Tecan® Type are the ideal companions, designed to excel across a spectrum of applications in both research and diagnostics. From high-throughput screening processes to genomics research, cell culture experiments to drug discovery endeavors, and even critical clinical diagnostics, these tips prove their versatility time and again. For high-throughput screening, they streamline processes, ensuring fast and reliable liquid handling even with larger sample volumes. In genomics research, precision is paramount for accurate nucleic acid analysis, a feat these tips achieve seamlessly from PCR to qPCR applications. Confidently perform cell culture and assays, free from contamination concerns, while driving accurate data acquisition in cellular experiments. In the realm of drug discovery, these tips elevate efficiency and reliability, accelerating experiment outcomes significantly. For clinical diagnostics, rely on their certified purity, where precision is non-negotiable. Additionally, these tips safeguard the integrity of biobank samples, preventing contamination and preserving the invaluable research materials. In all these applications and more, AHN Robotic Tips Tecan® Type prove themselves as the ultimate multifunctional solution, catering to the diverse needs of researchers and diagnosticians alike.
Test AHN Robotic Tips Tecan® Type Today!
Experience the future of liquid handling in your laboratory with AHN Robotic Tips Tecan® Type. Revolutionise your workflows and embrace a new era of precision and efficiency. Don't settle for less; choose the best for your experiments!
TECAN® & LiHa® are registered trademarks of Tecan Trading AG
Specification
AHN Robotic Tips Tecan® Type, conductive
Volume
Filtered
Colour
Sterilized
Pack Type
Sales Unit
Cat. No.
AHN Robotic Tips Tecan® Type,
10µL
conductive
flip box
case / 5 x 10 x 2 x 96 tips
WLB1304F50
✔️
conductive
flip box
case / 5 x 10 x 2 x 96 tips
WLB1305F50
AHN Robotic Tips Tecan® Type,
200µL
conductive
flip box
case / 5 x 10 x 2 x 96 tips
WLB1329F50
✔️
conductive
flip box
case / 5 x 10 x 2 x 96 tips
WLB1330F50
AHN Robotic Tips Tecan® Type,
1000µL
conductive
flip box
case / 5 x 10 x 2 x 96 tips
WLB1404F50
✔️
conductive
flip box
case / 5 x 10 x 2 x 96 tips
WLB1405F50
AHN Robotic Tips Tecan® Type,
10µL
conductive
blister
case / 24 x 96 tips
WLB1304B24
✔️
conductive
blister
case / 24 x 96 tips
WLB1305B24
conductive
✔️
blister
case / 24 x 96 tips
WLB2304B24
✔️
conductive
✔️
blister
case / 24 x 96 tips
WLB2305B24
AHN Robotic Tips Tecan® Type,
200µL
conductive
blister
case / 24 x 96 tips
WLB1329B24
✔️
conductive
blister
case / 24 x 96 tips
WLB1330B24
conductive
✔️
blister
case / 24 x 96 tips
WLB2329B24
✔️
conductive
✔️
blister
case / 24 x 96 tips
WLB2330B24
AHN Robotic Tips Tecan® Type,
1000µL
conductive
blister
case / 24 x 96 tips
WLB1404B24
✔️
conductive
blister
case / 24 x 96 tips
WLB1405B24
conductive
✔️
blister
case / 24 x 96 tips
WLB2404B24
✔️
conductive
✔️
blister
case / 24 x 96 tips
WLB2405B24
AHN Robotic Tips Tecan® Type, clear
Volume
Filtered
Colour
Sterilized
Pack Type
Sales Unit
Cat. No.
AHN Robotic Tips Tecan® Type,
10µL
clear
flip box
case / 5 x 10 x 2 x 96 tips
WLB1302F50
✔️
clear
flip box
case / 5 x 10 x 2 x 96 tips
WLB1303F50
AHN Robotic Tips Tecan® Type,
200µL
clear
flip box
case / 5 x 10 x 2 x 96 tips
WLB1327F50
✔️
clear
flip box
case / 5 x 10 x 2 x 96 tips
WLB1328F50
AHN Robotic Tips Tecan® Type,
1000µL
clear
flip box
case / 5 x 10 x 2 x 96 tips
WLB1402F50
✔️
clear
flip box
case / 5 x 10 x 2 x 96 tips
WLB1403F50
AHN Robotic Tips Tecan® Type,
10µL
clear
blister
case / 24 x 96 tips
WLB1302B24
✔️
clear
blister
case / 24 x 96 tips
WLB1303B24
clear
✔️
blister
case / 24 x 96 tips
WLB2302B24
✔️
clear
✔️
blister
case / 24 x 96 tips
WLB2303B24
AHN Robotic Tips Tecan® Type,
200µL
clear
blister
case / 24 x 96 tips
WLB1327B24
✔️
clear
blister
case / 24 x 96 tips
WLB1328B24
clear
✔️
blister
case / 24 x 96 tips
WLB2327B24
✔️
clear
✔️
blister
case / 24 x 96 tips
WLB2328B24
AHN Robotic Tips Tecan® Type,
1000µL
clear
blister
case / 24 x 96 tips
WLB1402B24
✔️
clear
blister
case / 24 x 96 tips
WLB1403B24
clear
✔️
blister
case / 24 x 96 tips
WLB2402B24
✔️
clear
✔️
blister
case / 24 x 96 tips
WLB2403B24