Maxxline® Cardboard Cryoboxes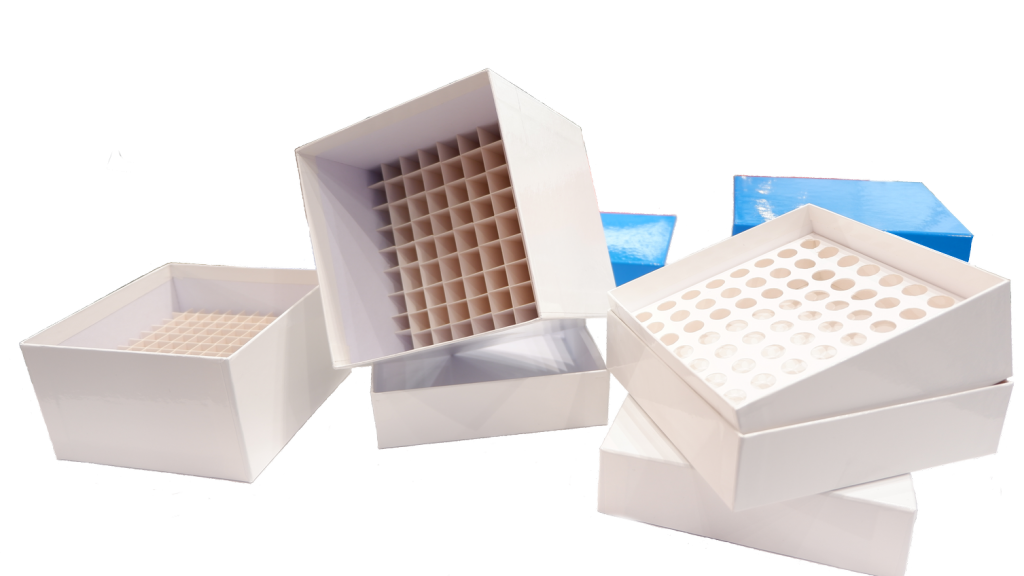 Try Our Product
---
Our local distributor will contact you to arrange free samples for testing.
Maxxline® Cardboard Cryoboxes
Any scientist working with cryogenic samples would appreciate the value of high-quality cryoboxes. These can make a world of a difference when storing multiple samples that require copious amounts of indexing and careful loading in freezers to avoid mixing up samples. With Maxxline® cardboard cryoboxes, we've removed the stress from cryopreservation by crafting the ultimate cardboard cryoboxes on the market. Here are some features that we think you will love:
Exceptionally moisture stable cardboard cryoboxes
With Maxxline® cardboard cryoboxes you can say goodbye to soggy cardboard boxes that make you long for moisture stable plastic variants. Each cardboard cryobox features excellent moisture repulsion thanks to a long-lasting hydrophobic coating. This means that you don't need to worry about moisture damage due to small spills and freeze-thawing cycles. Maxxline® cardboard cryoboxes also offer mild resistance to mild organic solvents and alcohols making them outlast generic options on the market.
Ecofriendly cryoboxes
Environmental protection has been quite topical over the past few decades and not without good reason. Plastic products are wonderful for science, but they also add to the burden of climate change. The ecofriendly Maxxline® cardboard cryoboxes are designed to make a positive impact on the environment. These ecofriendly cryoboxes are manufactured in a sustainable manner and they are easy to recycle. These are the perfect choice for all scientists that are eager to play their part to preserve the environment while pushing the boundaries of human knowledge through innovative research.
Colorful cardboard cryoboxes
Nothing breaks the white and gray continuum of modern research lab freezers quite like adding a splash of color. Maxxline® cardboard cryoboxes are supplied in a range of bold colors that not only make a statement, but also help in sample sorting. The visual cues offered by the brilliant hues of red, green, blue, and yellow as well as the natural white enable effortless sample categorization and retrieval from the freezer. With the colorful Maxxline® cardboard cryoboxes, we restored the fun to functional.
Cryoboxes for flexible cryovial storage
Maxxline® cardboard cryoboxes make it easy to design a cryopreservation solution that works around your lab's unique needs. Each cryobox can be fitted with removable grid dividers that create storage cells to hold cryovials. Standard grid sizes can be fit narrow (10×10 grid) and wider (9×9 grid) cryovials or microtubes for freezer storage. Optional grid dividers allow for further tailoring of grid sizes to fit unique usage scenarios. Maxxline® cardboard cryoboxes give you the freedom to create the best cryovial storage grids for your unique lab environment.
Cardboard cryoboxes with a great volume range
Maxxline® cardboard cryoboxes are supplied in a range of heights and base areas making it easy to select the most appropriate cryobox for a given tube length or girth. The standard Maxxline® cardboard cryobox has a 133x133mm footprint that would fit well in tight spaces while the 136x136mm variant would make up for its size by holding a larger number of samples. Both variants are supplied in five height options ranging from 32-130mm giving you the ability to store a larger diversity of sample tubes.
Get your Maxxline® cardboard cryoboxes today
If you would like to test out these innovative cardboard cryoboxes, we would love to send you a free sample. We know that you will be pleasantly surprised when you put each cryobox through its paces. Click here to contact us today!
Products related to Maxxline® Cardboard Cryoboxes
Ordering Information
| Description | Dimensions | Material | Colour | Sales Unit | Cat. No. |
| --- | --- | --- | --- | --- | --- |
| Cryobox B9, includes 9x9 cell dividers | 133x133x50mm | Cardboard | white | case/36 pcs. | ML22230 |
| Cryobox B10, includes 10x10 cell dividers | 133x133x50mm | Cardboard | white | case/36 pcs. | ML22232 |
Product Literature (Download)